Maximizing your return on life.
By understanding that your portfolio is only one piece of the puzzle, we can help make sense of the other important considerations that affect your financial life and account for them. Your personal values, significant life events, and the complexity of long-term financial decision-making require an experienced advisory team with a holistic approach.
YOUR FINANCIAL DATA AT YOUR FINGERTIPS:
Real-time monitoring of your balance sheet with consolidated performance reporting, scenario stress-testing, and liquidity analysis.
Dynamic cash flow modeling to effectively plan for various income and expense outcomes inclusive of taxes, inflation, and fees.
Asset protection and liability management to optimize debt financing, ensure there are no gaps in your asset protection coverage, and monitor and update the overall administration of your estate structure.
Tax mitigation strategies to defer, minimize, or eliminate income, capital gain, and long-term estate tax liabilities (e.g., charitable deductions, opportunity zones, solar tax strategies, discounted gifting strategies).
We start with your ideas and data, and end with a results-oriented game plan.
Your initial financial assessment with one of our award-winning advisors is on us.
At Miracle Mile you're always connected.
The Miracle Mile Client Portal connects you to every aspect of your financial life – anywhere, anytime.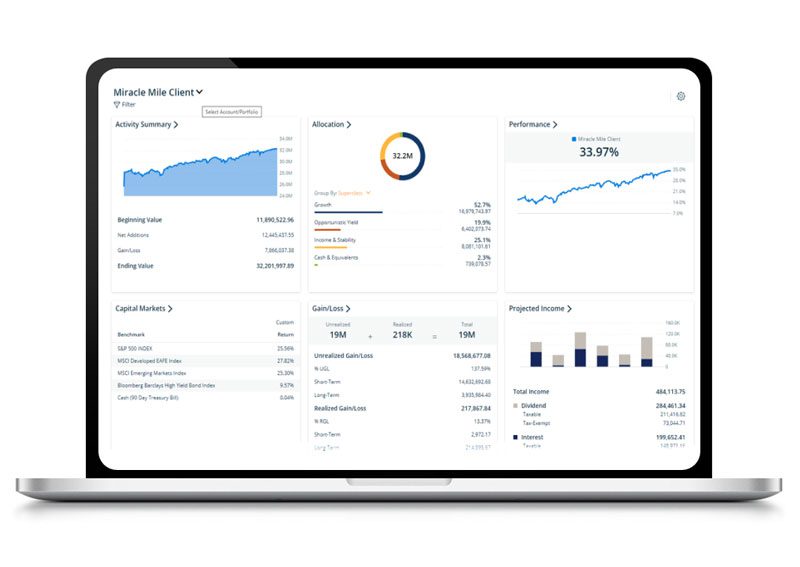 Miracle Mile Client Portal App: Access your portfolio information, financial documents, and advisory team – all available at the touch of a button.
Aggregate all of your accounts in one place: View a holistic picture of your financial life on a simple, intuitive interface.
Secure vault: Store tax reports, 1099s, trust and estate documents, and other financial information in a central location which is accessible no matter where you are or what device you're using.
Improved reporting: Explore our increased depth and breadth of account analytics and asset allocation. You now have a variety of ways to understand how your accounts are invested.
Easy access to your team: Utilize enhanced ways to communicate with us if you need a quick call, a wire transfer, or other service-related requests.
Advanced Cybersecurity: Employ multiple layers of security through two-factor authentication and user verification to safeguard your data and financial information.